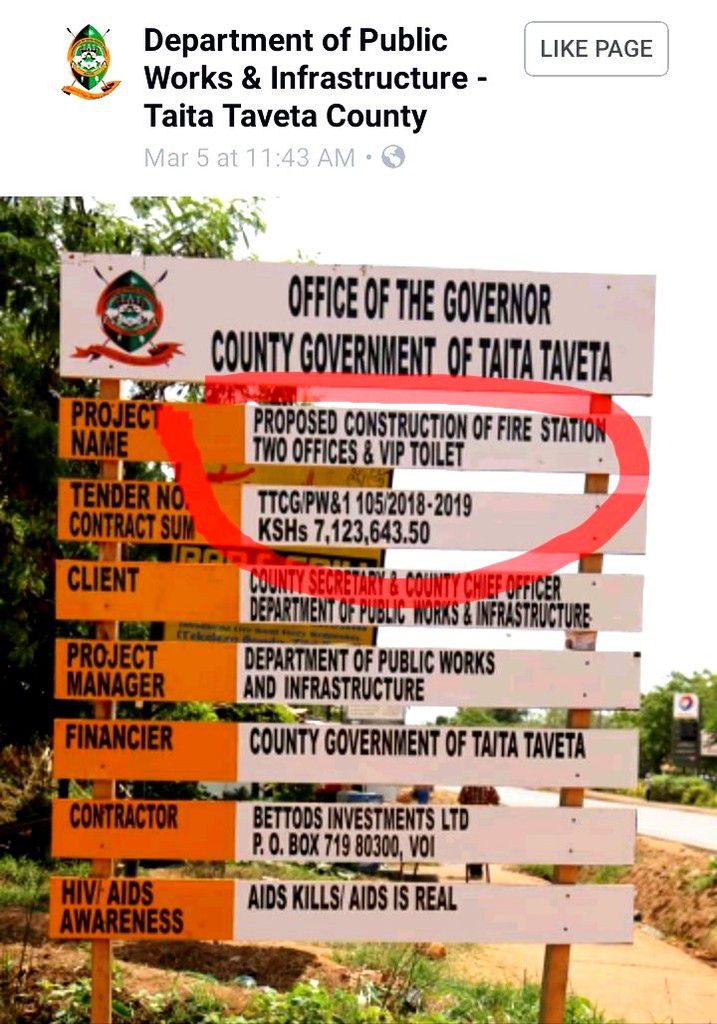 In the recent past Taita Taveta residents have been calling on the county government to put up a fire station to deal with cases of fires where business people lose property worth millions of shillings.
In the most recent incident a fire whose cause has not been identified in Voi town gutted down business stalls and property of immense value went up in smoke.
In a rare gesture governor Granton Samboja pledged Sh 1 million to assist the affected traders start their businesses afresh.
However county residents went to social media to exhort the county government to put up a fire station in Voi town where most cases of fire outbreaks occur.
A company by the name Bettods Investment limited was identified and began putting up a fire station on the outskirts of the town.
But the fly in the ointment in the more than Sh 7m project has been the inclusion of VIP toilets in the project costing.
"We welcome the county government move to put up the fire station which is long overdue but what baffles us is the inclusion of VIP toilets in the station. This could only be a ploy to inflate the project cost, which is unacceptable, "said Haji Mwakio the chairman of Taita-Taveta Human Rights Watch.
Another Voi resident Juvenile Mwakoi made fun of the toilets issue at the fire station : "Who are those VIPs who will be visiting the fire station? Is this hotel, a recreational facility or a disaster mitigation facility? posed Mwakoi wondered adding: That only goes to tell that those who will be manning the facility are not ordinary mortals".
Meanwhile another toilet project in Mwanda village Wundanyi sub-county has raised a storm in social media where tow box toilets have been put up at a cost of Sh 550,000 per piece.
A box toilet cannot cost this amount of money not unless the county government wants to convince us that the material use was sourced at inflated cost" said a county resident in Taita-Taveta county Citizenry Forum facebook group.
However the county government PR team also took to social media to defend the project cost saying the funds spent "was modest".
{et