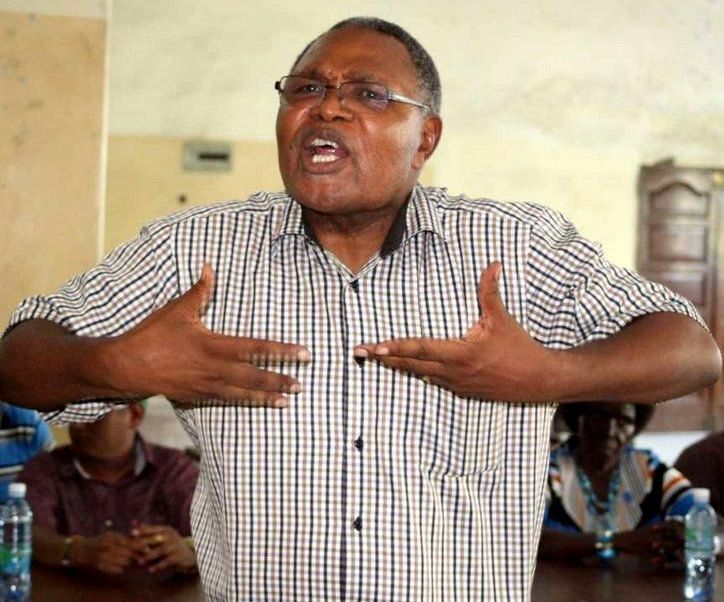 "I have beaten governor Mruttu in the ODM primaries and will not accept any repeat polls" -Mwadeghu
BY PASCAL MWANDAMBO
Voi Thursday
Wundanyi MP Thomas Mwadeghu has ruled out any repeat polls in the just concluded ODM primaries in which he trounced governor John Mruttu ,garnering 17,567 votes against Mruttu's 14,817.
Addressing the Press in Voi town today Mwadeghu said the complaints raised by Mruttu over polling stations in his Taveta strongholds where voting was not conducted was out of frustration.
"There are only three polling stations in Taveta where voting was not conducted and no one was declared the winner. So why is Mruttu harping on this issue which affected both of us?" posed Mwadeghu.
The straight -shooting, flamboyant politician pointed out that only at the Challa, Primary school, St Joseph Primary school and Mahandakini polling stations did voting fail to take place.
Mwadeghu alleged that Mruttu had failed to facilitate the transport of voting materials to the polling stations especially in areas deemed as Mwadeghu's strongholds, wondering why voting materials arrived first at Njukini before Challa which was bypassed.
Mwadeghu, a two -time Wundanyi MP, beat Mruttu in all the three sub-counties of Voi, Mwatate and Wundanyi , save Mruttu's home sub-county of Taveta.
In Voi ,Mwadeghu got 4,197 votes and Mruttu 3,950 votes. In Mwatate, Mwadeghu garnered 7,483 votes against Mruttu's 2,920, in Wundanyi, Mwadeghu got 4,417 votes while Mruttu got 3,628. In Taveta Mruttu won with 5,112 votes with Mwadeghu managing a paltry 1,181 votes.
delusion
Today Mwadeghu was categorical that Mruttu had been deluding himself that he was more influential in OMD party than him and had been hoping to get a direct nomination , something Mwadeghu dismissed as wishful thinking.
"I have been the ODM minority whip and my role in the party cannot be gainsaid. At not time will I leave ODM.I will fight with Mruttu bumper- to- bumper" vowed Madeghu.
The ODM lawmaker pointed out that he had already been issued with an interim certificate and was waiting for the final certificate to be issued to him, dismissing any repeat poll as a waste of time "since it would not change anything".
Mruttu, the vice chair of the Council of Governors ,becomes the first governor in the country to lose his seat during party primaries with the only thread of hope left being to run as independent candidate if at all he has ambitions of ending up at the ballot on August 8.
Others who won in the ODM primaries for the county seat are Johnes Mwaruma(21,037 votes) against Richard Tairo(11,068) for the Senate, Hope Mwakio(16,238 votes) against Annastacia Wakesho(14,684) for Women Rep.
With the governors primaries almost reaching a climax, focus will now shift to the onerous task of picking the running mates, a tricky issue that factors in, among other things, regional balance as well as gender considerations.
I have been the ODM minority whip and my role in ODM party cannot be gainsaid. At not time will I leave ODM.I will fight with Mruttu bumper- to- bumper...