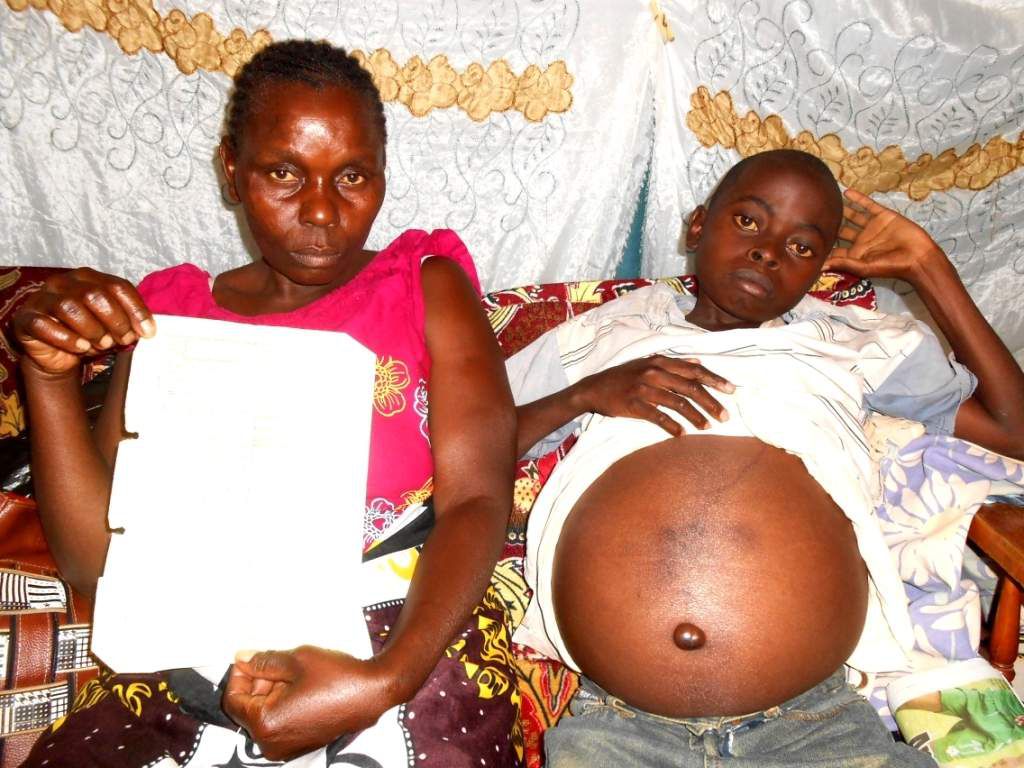 BY PASCAL MWANDAMBO
As villagers go about their day to day activities at the sleepy Mwachabo village in Mwatate constituency, Taita-Taveta County, a mother of 9 is having sleepless nights over her child's strange condition that has continued to baffle doctors.
Fifty year old Ruth Majala is still confounded by the strange condition afflicting her 13- year old son Kazungu Karisa. The boy's abdomen has distended as though it was full of gas or a strange fluid.
According to Majala, the boy's problem began in 2012 when Karisa was in class seven at Mwachabo Primary School.
"At first I thought it was a temporary problem that would go away," said Majala.
However, the boy's condition continued to deteriorate, forcing him to drop out of school last year after spending only one week in class 8.
According to Karisa, he usually suffers sharp abdominal pains, loss of weight and appetite.
"Most of the time I feel weak, breathless and losing weight. I also have a very poor appetite" Karisa told this writer.
Majala says she took the boy to the Moi Hospital in Voi last year where he was admitted for three weeks.
She says the doctors gave the boy some pills and also administered injections. After that the condition improved slightly but after about a month the agony returned , as the boy's tummy continued distending and the abdominal pangs increased.
"The doctors said my son's heart had a problem in that it had expanded. I did not know what to do because I have no idea what to do with a child with an expanded heart," She says ruefully.
distraught
The distraught single mother of nine was not about to give up though. She raised some money from well wishers and took the boy to Coast General Hospital in Mombasa.
"The doctors at Coast General said my son had TB, which I found strange because he has not being coughing as is usually the case with those affected by the disease. But I had no option but to listen to what the medical experts said because all I wanted was my son to get better," said Majala.
She says the doctors prescribed TB drugs which Karisa took for the usually stipulated six months.
After that no much improvement occurred on the boy's distended tummy.
"At times I would spend sleepless nights asking God to remove this curse from my son" says the distraught woman.
unrelenting
Not one to give up hope easily, Majala crossed the border to Moshi in Tanzania in August last year , where her son was admitted at the Kilimanjaro Christian Medical Centre(KCMC).
She says the doctors in Moshi said the boy's organs; the heart' liver and kidneys were functioning normally but there was "a strange condition" that was producing fluid in the boys tummy.
After being treated for about a month and a half, mainly on tablets, the mother was advised to return home and get money to pay the hospital bill which stands at TSh 150,000.
A discharge sheet from the KCMC hospital seen by this writer says, " the abdominal distension remains but the condition is stable."
With forlorn hopes, Majala says : "I have not returned yet as I do not have any money to settle the hospital bill. The only security I left behind is my national ID. Now I cannot travel safely because of the document , yet my sons condition has not improved."
The woman says she was forced to return to Moi hospital in Voi where she has been given prescriptions which she uses to purchase drugs from private medical facilities.
"Most of the drugs we are using now are basically pain killers, when the boy's chest and abdominal pains start," says Majala.
She says she hopes well wishers will come forward and raise funds so that 13- year old Karisa can go for specialized treatment, probably at Kenyatta National Hospital.