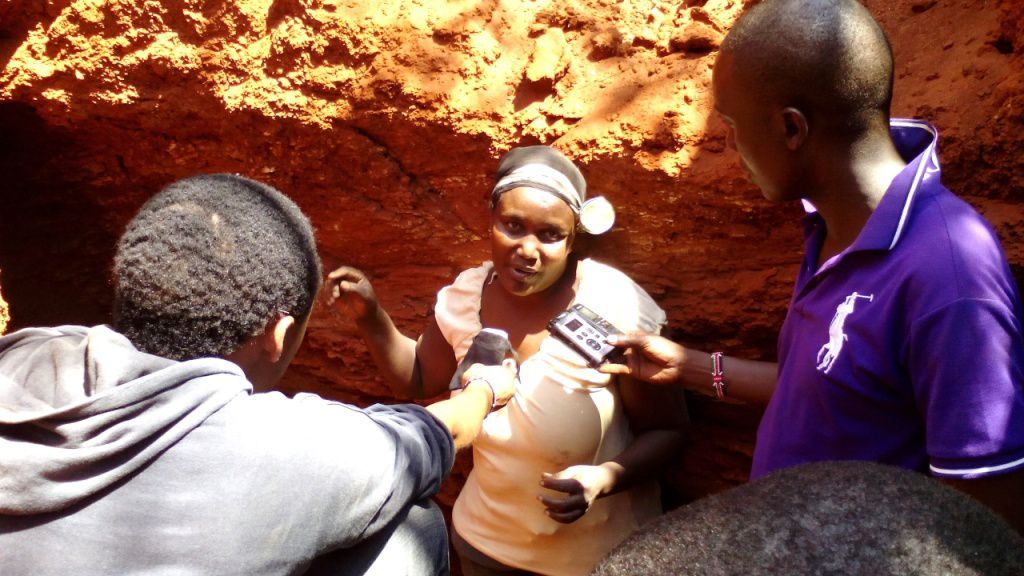 BY PASCAL MWANDAMBO
She rises up early, around 5 am. After finishing her household chores, she picks a shovel and makes a beeline to the mines. On many occasions she is the first to arrive at the mine and is joined shortly by her male colleagues.
After a brief chat they all disappear into the belly of the earth and frantically begin digging for gemstones. Within a short while their bodies are covered with red dust and sweat. But the stinging heat does not discourage the miners from searching for valuable gemstones.
However, what is more striking is that Lucy Mwakio, 33, and a single mother of two is the only female mine worker at the Mkuki Mines in Mkuki Ranch in Mwatate constituency, Taita- Taveta county which has more than 700 mine workers.
"When I decided to try my hand in mining last year some people were curious to know what exactly I was up to because most people think a woman can not engage in the back breaking work. In fact some even went to the extent of calling my parents to tell them that I am a lost cause because of mingling with men in the mine to dig for gemstones" Lucy told i-mpact news during a tour of the mine.
She went on.. "What most people forget is that there is no job that is a preserve for men or women. It's only ones determination and resilience that counts in the long run".
The Mkuki Mine is owned by the Chawia Minerals Association(CMA), a community based organization which was formed with the main objective of bringing together small scale miners in Chawia Ward to give them an opportunity to engage in mining activities which are mostly a preserve of rich investors.
The mine produces green garnets also known as Tsavorite as well as tourmaline. The mine also has iron ore deposits which the CBO has not been mining because of the stringent government regulations and huge capital investment involved.
According to Lucy, there are a total of 37 registered groups from Chawia involved in mining in the area.
"Each group pays a membership fee of Sh 5,000, while 35 per cent of the proceeds of the gemstones sold is set aside for sustaining the miners especially in buying food and water," she says.
She says the money she makes sustains herself and her two children .
One group can make between Sh300,000 to 400,000 from gemstones which they use for servicing a mining compressor donated by the county government and other mining expenses.
However Lucy says they face many challenges in their mining activities such as fear of attack by wild animals as well as lack of protective gear such as helmets to protect them from falling rocks.
Last year one miner from the area was attacked and injured by an elephant.
"Availability of water is a big problem as the area is perennially hot and dry and we have to get supplies from Mwatate town several kilometers away," says Lucy.
She say mining is not for the faint hearted as it takes many months, even years, before they strike "pockets" of gemstones.
"Some people even give up after spending huge sums of money in mining only to get nothing of value," she says.
Asked about the extravagant lifestyles that most miners exhibit after landing on gemstones and making huge sums of money, Lucy says not all the miners spend they money unwisely.
"There are many examples of miners who have invested in other big businesses as well as excelling in many other ventures," she says.
According to Dr Constantine Mwadime, the chairman of Tsavo Minerals Organisation, there is need for the county government to relax some of the regulations regarding licencing for small scale miners such as those in Chawia so that they can participate effectively in mining.
"Mining business needs to be demystified so that gemstone dealers can operate freely without fear of being labeled unscrupulous," says Mwadime.
He says Tsavo Mineral Organization will beholding regular mining and gemstone expos in Taita- Taveta county where small scale miners can get an opportunity to showcase their products as well as linking them to potential buyers and sellers of gemstones.
"So far we have held two very successful mining expos in Mwatate and Voi which have acted as an eye-opener on the mining industry and the challenges that come with it," he said.
"Our organization is ready to offer support to local miners so that they can access gemstone markets where they are able to sell their products at lucrative prices," says Mwadime.
He points out that most gemstone dealers end up selling valuable gemstones at a throwaway price because they lack the requisite knowledge to determine the quality of gemstones, adding that there is need for the county to have value analysis equipment where gemstone sellers can determine the type and quality on minerals before selling them.
Mwatate MP Andrew Mwadime said that organized groups such as those from Chawia in his constituency are the best way to go in empowering local miners with little or no capital investments to engage in mining.
"Organised groups, especially of youth and women will give small scale miners a higher bargaining power in the gemstones trade and stave off exploitation by middlemen also known as brokers," says Mwadime.
"The county government needs to recognize the role of small scale miners in the minerals trade and offer incentives such as loans and modern equipment that will enable us access minerals faster unlike in most cases where we use trial- and- error methods to locate gemstones," says Gabriel Mcharo, the chairman of Chawia Minerals Association.
Mcharo says miners need to be offered learning opportunities in seminars and workshops where they can be taught the value and types of gemstones and the prices that they can fetch.